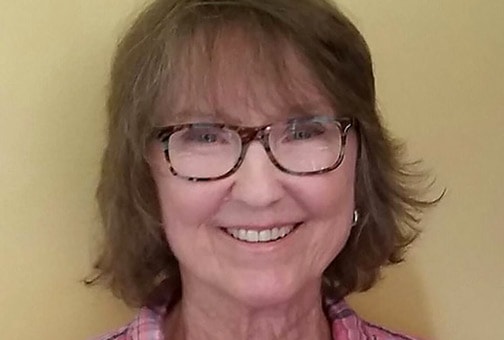 Homemaker, educator, reader
Judith Dell (Jones) Ritchie died at home in downtown Claremont on July 15, her beloved husband Tom at her side.
She had lived with insulin-dependent diabetes for over four decades, and fought bravely in later years as scleroderma attacked her lungs. She was so thankful to receive the COVID-19 vaccine and be able to see friends and family, attend book club meetings, shop at the farmer's market, and enjoy outdoor dining again in the final months of her life.
Judy was born January 1, 1947 in Lynwood, California, the third child of Annie Ogden Jones and Eugene Vernon Jones. She attended school in Pico Rivera and graduated from Monrovia High School in 1964, going on to attend UCLA and earn a bachelor's degree in English literature in 1969, a few months after the birth of her daughter Emily.
She and her first husband, Jim Cooke, separated amicably shortly after they moved to Claremont in 1974; they collaborated with many friends to recall four school board members who had voted to close Sycamore School, where Emily attended elementary school and she volunteered as a reading tutor. She stayed active in Claremont politics, working on contentious mayoral campaigns through the 1970s.
She met her future husband, Tom Ritchie, at a fundraiser organized to oppose Prop 6, the statewide ballot initiative that would have barred LGBTQ people from teaching in public schools, in 1978.
Wanting to impress her new boyfriend, she learned to love camping, backpacking, cross-country skiing, and even rock climbing and motocross. She surprised herself with a fondness for skiing with him into the backcountry and camping in the snow. Together they enjoyed many group camping trips with friends in Joshua Tree. They also played tennis and racquetball (she was fierce with a racquet!). She and Tom were married January 1, 1991. Their son Connor was born in 1992.
She spent her professional life at the Claremont Colleges, first at Higher Education Abstracts (a quarterly compilation of abstracts of journal articles pertaining to college students, faculty, administrators, and related topics in higher education) on the campus of what was then known as The Claremont Graduate School, then for many years at Pomona College in the office of financial aid, starting as secretary and working her way up to assistant director.
She brought not only a lightning-fast typing speed but also a keen editorial eye and knack for writing a well-crafted letter to her work. A particular satisfaction for her was putting together financial aid packages for students from working-class backgrounds who were the first generation to attend college.
Her own father had left school in the eighth grade to do farm work, and taught himself algebra in order to work in industry during World War II; her mother, an immigrant from England, was the first in her family to graduate from high school, in Watts in the 1920s. She believed passionately in the power of education to change lives. Before retirement, she returned to work part time at Higher Education Abstracts.
She was fortunate to get to travel, visiting her daughter on her education abroad year in Italy and traveling with her husband and Connor to the East Coast from New England to North Carolina, exploring early U.S. history with trips to sites such as Washington, D.C., Jamestown, and Colonial Williamsburg. They also enjoyed visiting Jamaica, France, and Ireland; cruising in Hawaii, Mexico, and Alaska; and narrow boating in England and Wales with her daughter and her husband Naggi. After her retirement, the couple continued to enjoy traveling, especially a river cruise on the Rhine and a trans-Atlantic crossing from Shetland to Nova Scotia and points in between.
As much as she loved to travel, she was happiest at home, with her dogs and cats around her, cooking, watching her UCLA Bruins, or reading. A longstanding member of her book club, she once said she would rather read a good book than go to a cocktail party, which might surprise some who knew her; she had a vivacious spirit, loved to laugh and debate, could really tear up a dance floor, and appreciated a nice glass of wine.
Many of her friends were artists, musicians and writers; she always looked forward to Fassbinder kiln opening parties and collected pottery, jewelry and folk art. Recently, her longtime friend Ellen Harper dedicated her memoir of folk music and protest, "Always a Song," to Judy. She felt this deeply as a special honor.
Her family remembers all the wonderful home-cooked meals she made, all the books she recommended, all the school papers she typed and edited, the times she volunteered at school and on soccer teams, "and also the occasions she set us straight with honesty and compassion."
She was a loving, strong presence. Her elder sister, Sheila Swanner, died in 2001.
She is survived by her husband, Tom; son, Connor Ritchie; daughter and son-in-law, Emily Cooke and Naggi Asmar; brother and sister-in-law, Donald and Janice Jones; grandchildren, Rosie and Gabi; niece and nephews Sheree, Scott and Dan; and her little dog, Betty.
Donations in memoriam may be made to one of the organizations close to her heart, Peruvian Hearts, a nonprofit pioneering girls' education and empowerment in Peru at https://peruvianhearts.org/; or Inland Valley Humane Society and S.P.C.A, where her family found many loving companions over the years, at https://www.ivhsspca.org/.