Claremont public schools cancel all spring sports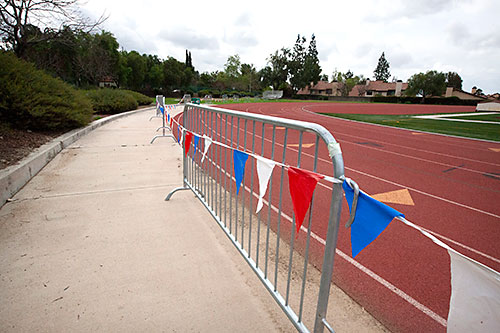 by Steven Felschundneff | steven@claremont-courier.com
When Claremont public schools closed last week because of the spread of the coronavirus, Claremont High School's spring sports season vanished into thin air.
Under a threatening sky Monday morning, the football field at CHS was all set for a track and field meet with Ayala. One that will never happen. The tennis courts and the gym are similarly idled.
Across the country, NCAA basketball tournaments, professional basketball, baseball, soccer and many others have been canceled or delayed.
Claremont's own Pomona-Pitzer men's basketball team made it to the Sweet Sixteen for the first time in program history only to have those dreams dashed when the tournament canceled. All Claremont College spring sports and Southern California Intercollegiate Athletic Conference play have been called off.
The NCAA announced that athletes at member schools would get an extra year of eligibility, however, for the seniors at Claremont High there is no extra year. They are simply out of luck.
High school programs affected include: softball, baseball, coed swimming, track and field, as well as boys tennis, golf and volleyball.
CHS Athletic Director Mike Collins sent a statement to parties affected by the cancellation.
"Hello Pack athletes and parents. As of today, 3/13/20, we are canceling all athletics, both practice and games until further notice. Please let all involved know. As I get more information I will pass it on to all of you," the statement read.
With students scheduled to return on April 13, many Palomares League championships could still go forward including the track prelims and finals as well as tennis playoffs.
Assistant track and head cross country coach Bill Reeves said he has not gotten any word from CIF officials, but most likely all competition including the playoffs will be canceled. He said many of the students, particularly the seniors, are very disappointed.
A small group of dedicated runners have decided to forge ahead, forming the "Claremont High School track club." The students meet at the CHS track, which is open to the public, each morning.
The club is largely made up of distance runners who are working to stay in top shape for cross country season in the fall.
"We are a friend group within the team," sophomore Chris Coles said. "We are just doing what we can to keep it going."
Students are trying to maintain a good attitude, but admit it's disappointing to cancel the entire season.
Several coaches told the COURIER last month that they had very young teams and were looking at the season as an opportunity to rebuild. But with practices and games canceled, that work will have to wait a year. Other sports, such as boys tennis, were odds on favorites to win a league title, but no new banners will be added to the CHS gym this spring. The tennis program's number one singles seed senor Ben Stapp would certainly have gone deep into the CIF tournament but now he will have to set his focus on collegiate competition.
The CIF Southern Section sent a news release Wednesday stating only that the regional office would be closing until the end of the month, with no mention of how the spreading pandemic may affect the playoffs.
In Sacramento the CIF State office had a more complete statement:
"Today the California Interscholastic Federation (CIF) State Office and the 10 Section Commissioners held their annual scheduled spring meeting. The agenda included a discussion concerning the impact of COVID-19 on the 2020 CIF spring sports season.
While the time may come when we have to cancel post-season events, today is not that day. In anticipation of further guidance and directives issued by federal, state and local government agencies regarding COVID-19, the CIF has not determined the future of spring sports events at this time and intends to reconvene with the 10 Section Commissioners on April 3 to revisit this issue," the statement read. "The CIF will continue to work with our schools and school districts with the health and well-being of student-athletes and school communities as our priority."