PACT mental health team approved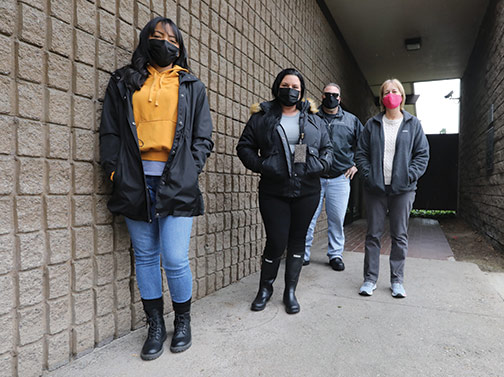 by Steven Felschundneff | steven@claremont-courier.com
The city of Claremont and its local mental health agency have formally agreed to a new program called the Psychiatric Assessment Care Team, informally know as PACT, under which trained and licensed mental health professionals will respond to certain non-emergency calls received by the police.
The program, a partnership between the Claremont Police Department and Tri-City Mental Health, has been a priority for both Claremont Police Chief Shelly Vander Veen and Tri-City's Shawn Smith, who will be PACT's director.
Chief Vander Veen and Mr. Smith have been working on the concept for three years and officially announced its creation late last year. After working out some final details, the Claremont City Council unanimously authorized the city to enter into the agreement two weeks ago.
The Psychiatric Assessment Care Team, which consists of licensed psychiatric technician Shawna Acosta and licensed marriage and family therapist Dannielle Cervantes, will respond to calls for service regarding homeless individuals and those experiencing some type of mental health crisis. The team will be assigned a police officer who will accompany them on calls.
When a call that could be appropriate for PACT is received by dispatch, a watch commander will triage the situation and decide whether the call is best handled by the police, or an officer and the PACT team. Initially, the idea was to have PACT respond alone to certain calls but that changed over the course of the last two months.
"In further discussion between the Tri-City team and PD and as details were fleshed out, it seemed better to assign one officer to respond with the team as the program starts and until both TC and PD see what exactly the need is and what makes best practice for the City of Claremont," Tri-City Executive Director Toni Navarro told the COURIER. "However, in these non-criminal, non-violent situations, the team will put mental health and de-escalation at the forefront of the response versus leading with police-focused response."
The program will be paid for with 1991 realignment funds which are "the result of an arrangement between the state and counties that dedicate portions of the vehicle licensing fees, and sales tax revenues to county health, mental health and social services programs," according to a staff report submitted to the city council.
"The goal of the PACT is to utilize police resources more effectively and efficiently to respond to mental health needs of Claremont residents and/or visitors by using trained mental health professionals to take the lead on non-violent, non-criminal calls for assistance received by the police department, including responses to addressing persons with mental health needs who do not have a permanent residence," police officials said in a statement.
The two mental health professionals will respond to calls to provide crisis intervention, including screening and evaluation as well as referral to other mental health services offered by Tri-City. The team will also follow up with these individuals and families to ensure they are connected to appropriate ongoing services. In addition, the team will be certified to write involuntary psychiatric hospitalizations know as 5150 holds.
PACT will have office space at the Claremont police station and their own vehicle.
During the February 23 Claremont City Council meeting PACT received wide praise from the council and during public comment.
"This is absolutely great work for the benefit of our community, our residents and those that are transitioning through our community," Councilmember Ed Reece said.
He also appreciated the fact that the program will not affect the city's budget since the salaries will be paid by Tri-City.
An earlier version of this story that was posted to the COURIER's website and social media drew mixed reviews about PACT from readers, with some expressing concern for the safety of the team if a situation turned violent. Others expressed confidence that the program would be handled correctly and expressed that it was a positive step for treating mental illness in our community.
"My understanding is that 9-1-1 operators are being trained to discern what type of emergency help is needed with these new types of calls. They are already extremely good at their jobs, and I have full confidence in them to be able to handle this as well," Martin Maudal said.
"This program designed properly is a very valuable program. The fear I have is a program designed to cater to activists and lacking common sense. In the end, the mental health teams won't go on many calls at all, if any, without the police," longtime Claremont resident Patrick B. O'Malley said.
"If Claremont starts rolling around teams without the police, it won't be a matter of if one of them gets killed, just a matter of when. Mental health calls are the most dangerous calls there are, the most unpredictable, and the most frequent in this state with the judicial system in place of very few punishments for bad and illegal behavior."
"We are not out there to do police work," Mr. Smith said, emphasizing the specific training that Tri-City employees have for making contact with people who may be in a mental health crisis. He compared it to a situation where someone was having a medical emergency, like a heart attack, clearly the team would call 9-1-1.
"Any dangerous situations will be vetted by Claremont PD and when it is safe for us to get into the situation, we will do that. We won't be taking on anything that appears dangerous and needs police intervention," Mr. Smith said.
"Many times our local police departments get calls from the community that are really social services related," Ms. Navarro told the COURIER last November. She said a lot of calls come from residents or business owners who may be genuinely concerned about the wellbeing of a homeless person. "It doesn't necessarily involve any potential crime, or any potential concern of violence, and so those types of calls and situations are appropriate to have a mental health professional [respond] who can assess the situation."