Pack gets solid football win at Bonita: see roundup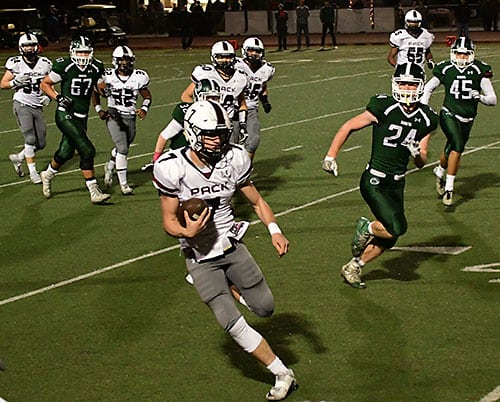 Football
Claremont High School football earned some redemption on Friday by defeating Bonita High School, 36-31, in La Verne.
Quarterback Reggie Retzlaff was strong on the ground and passing with two touchdowns, 11 carries for 107 yards, and 14 completions from 21 attempts and 135 yards.
At halftime the game was tied at 17, but Claremont got a touchdown in the third, a lead they would hold until the fourth quarter when Bonita scored, but failed to convert the extra point.
Both teams would score again the in fourth quarter, with Bonita going ahead by one point with 2:38 left in the game. But the lead did not last long, when Zuri Clark punched it in from 25-yards for the game winning touchdown.
The Pack is now 1-2 in Palomares League, 3-5 overall.
Girls volleyball
Wolfpack girls varsity volleyball team came back from a 2-1 deficit on sets against Bonita on to win the match, 5-3, on Monday in La Verne, clinching second place in the Palomares League. Claremont took the first set, 25-22, but lost the next two, 18-25, and 24-26. But the girls did not let that close set slow them down, winning the fourth set, 25-10, and the tiebreaker, 15-11.
Coach Posada described the Bonita match as an "exciting playoff atmosphere."
"It was thrilling to be a part of, for the fans and as the coach. Exciting and nerve wracking at the same time, but more important it was nice to see us deal with that adversity and overcome," he said. "For us to be down 2-1 after losing by just two points and to come back and win solidly with defense and great serving. It's good for you because it makes you feel comfortable going into playoff time."
The Pack lost a heartbreaker to Diamond Bar, 3-1 last week, with Kylie Robinson also hurting her back. Robinson continued to play after her injury, but was not able to give 100 percent, according to Coach Angel Posada.
"We have had our good moments, just as we have had our bad moments, just like any other team but we are overcoming it and we finished strong," Coach Posada said.
"Congratulations to coach Posada and all the Pack volleyball girls," Athletic Director Mike Collins wrote on the CHS website.
Girls tennis
Freshman Goldie La was named the Palomares League girls tennis singles MVP for going undefeated in both preseason matches and in league play, accumulating a 28-0 record.
La continued her winning ways on Tuesday, advancing to the singles semi-finals at the individual CIF preliminary tournament held at the Claremont Club. She resumed play on Thursday, vying for a spot in the CIF singles tournament.
The Pack will begin their pursuit of a CIF Division 3 team championship at home on November 1.
Girls Golf
At the Palomares League Finals last Wednesday at Western Hills Country Club, Juliana Gomez and Jett Legacion made first team while Maryn Santiago Sally Wang made second team.
Both Gomez and Legacion finished in the top nine in our league and qualified for CIF Individuals in tough and windy conditions at Dad Miller on Tuesday. This was the first round of CIF individuals Southern Section.
—Steven Felschundneff
steven@claremont-courier.com