Rembrandt Club recognizes Pomona College student artists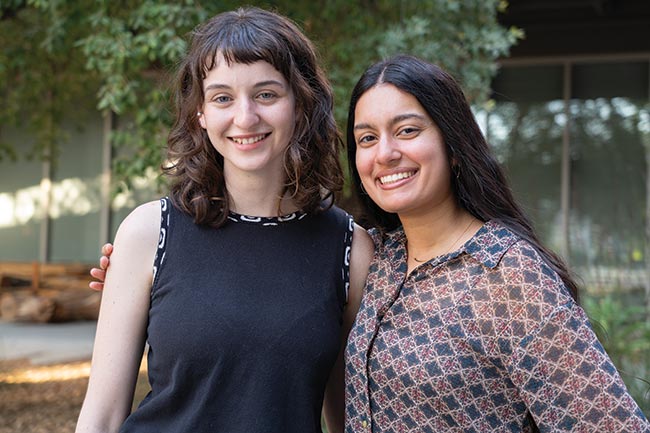 by Andrew Alonzo | aalonzo@claremont-courier.com
If there's one spot on the Pomona College campus with which seniors Ananya Goel and Bella Pettengill are intimately familiar, it would be the Studio Art Building.
So it was fitting when the two art majors were recognized there by The Rembrandt Club of Pomona College and Claremont Thursday as recipients of the Perdita Sheirich Junior Art Prize Award.
The annual prize, which includes a $3,000 grant, is named after longtime club member Perdita Sheirich. It is awarded to two rising Pomona College juniors who then conduct summer research. Recipients are chosen by Pomona College's Art and Art History departments.
Goel, 21, is an art history liaison and curatorial intern at the Benton Museum of Art. The grant funded a summer trip to the Smithsonian's National Museum of Asian Art in Washington D.C., and to the British Museum in London and the Ashmolean Museum in Oxford to study paintings and coins from the Mughal Empire.
"I focused in the early modern period on Jahangir's Mughal, who came after Akbar who is probably the more well-known [emperor] if you know anything about the Mughal Empire," Goel said. "The coins that I was particularly interested in were his portrait coins which he offered in the context of gifts. I was looking at paintings that were portraying Jahangir either giving gifts … but then more broadly, sitting with gifts that he had received from other people. Then I was looking at the coins that he historically had given to other people in his court."
Goel has been curious about numismatics, the study of coins, since taking an "art and colonialism in South Asia" class last semester, and reading "Orientalism," a 1978 book by scholar Edward Said.
"I took this class as like, 'This is something I have to do as an Indian,' and understand what art history looks like in the context of where my parents came from and what I have a lot of aesthetic appreciation for growing up," Goel said. She added that lessons in "Orientalism" "gave me this new way of looking at everything that I had thought I knew about what it means or what an Indian aesthetic looks like and what it does and where it came from.
"I feel like I ended up sinking my teeth into something totally different and much bigger than I expected," she said.
The research taken from the trip, while for her own purposes, will ultimately feed into Goel's senior thesis, which is due next semester. In the meantime, "I have a lot more to explore in the field with this particular subject, so I just have a lot more plans for research in the future," she said.
Goel is looking forward to walking the graduation stage in 2024 alongside Pettengill, and plans to apply for graduate school programs in the United Kingdom.
Fellow Perdita Sheirich Junior Art Prize Award winner Pettengill, also 21, is a graphics artist for The Student Life, a Chan Gallery assistant, and the student liaison for the college's art department. She is pursuing a double major in studio art and cognitive science. She can often be found sketching everyday scenes into her notebook. "I've always been an artist and now I'm pursuing it professionally," she said.
Pettengill used her $3,000 prize to fund a two-week trip to La Ceiba Gráfica, an art residency in La Orduña, Veracruz, Mexico, where she pursued printmaking.
She learned of the residency from Mark Allen, a professor of art at Pomona College, and artist Janet Diaz, the lithograph instructor at La Ceiba Gráfica, who came to Pomona for an artist talk.
"I took two classes: I took a stone lithography class and mokuhanga, which is a Japanese woodblock cutting class," Pettengill said. "I really have fallen in love with it since. Each class was about two to three hours a day. A learning residency is what it's called — all in Spanish. I thought it was really time for me to explore printmaking, which is another equally as important form of image making."
While in Mexico, Pettengill created three images: two lithography prints, "My Mermaid, My Siren," and "Mighty Bananas," and one mokuhanga print, "¯\_(ツ)_/¯." She created just over 20 copies of each print.
Although she's not due for an exhibit this semester, Pettengill will have the prints ready to show at next semester's senior showcase and potentially at the Pomona Zine Fest.
Pettengill hopes more art residencies are in her future, and plans on pursuing her master's in fine arts down the line. For now though, she's looking for work in the fine arts field. She's set to graduate next semester alongside Goel.
Thursday's award ceremony kicked off The Rembrandt Club's monthly programming for 2023-2024. Visittherembrandtclub.org for more info.